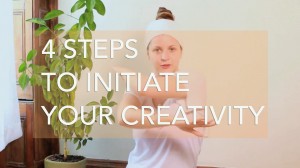 I am not an artist of any kind. I can't sing to save my life, my drawing is on the level of 7 years old, and forget about playing an instrument. 

However, I always knew I was creative. But I've struggled with expressing my creative side, so I just let it go. Then I started doing Kundalini Yoga and my creativity could not be stopped. I get so many amazing creative ideas, plans and stories that I don't have time to realize them.

I don't get stuck anymore with thoughts like "oh this is a terrible idea what will other people think of me", or "I won't be able to pull that off" or the biggest block "this is not good enough"

Every one is extremely creative. I think to be able to express yourself creatively is pretty close to a total happiness. What are you doing to express yourself?

Would you like a little help with a powerful energy of Kundalini Yoga a.k.a "the remover of obstacles"? 
Watch this video and learn 4 steps that I use to help me initiate my creativity.